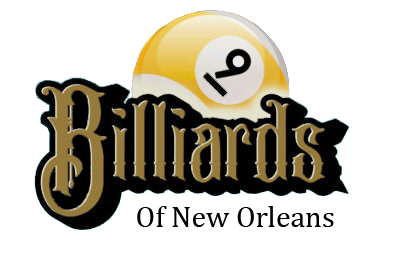 New Orleans' Premier Pool Table Movers!
Over 30 Years of pool table experience!
Billiards of New Orleans has proudly been servicing pool tables in the New Orleans area for more than 30 years. Call now for a free quote!(504) 256-6111
Deception Abounds! So, know who you are dealing with!
There's some misinformation floating around regarding who is who as it pertains to pool table movers in New Orleans. Here, I'll give you the run-down.
One website many people will come across is "neworleanspooltablemovers.com". That is our sister site and we rent that website from the domain owner. They have links to this site (that you are on now). We are located here, in Kenner, LA; and, have been doing pool tables here in the New Orleans for the past 25 years!
As mentioned elsewhere, we are proud members of the BCA (Billiard Congress of America).
The BCA is an organization dedicated to the advancement of the billiard industry, suppliers, retailers, bar owners, and players alike. They have been in existence since 1948, and have close ties to the National Billiard Association of America, which dates back to 1921. They are the ONLY nationally recognized trade association within the billiard industry. The BCA hosts trade shows annually; with hundreds of manufacturers exhibiting and thousands of retailers attending every year.
The BCA is located in Colorado and is filed as a NON-PROFIT 501(c)6.  (The legal filing of a "Trade Association")
The "ABIA" boasts that their installers are "members" of a "trade organization" and that they offer an " industry exclusive service guarantee". If you're wanting a "guarantee" on your pool table from the "ABIA", be prepared to pay more than DOUBLE what a local installer charges!
A simple search with the Oregon Secretary of State will show that the "American Billiard Installer's Association" is owned and operated by the very same people who own the website "pooltablemoversneworleans". In short, they are one in the same. They are NOT a non-profit.
You can find their Oregon filing as an LLC HERE. And HERE.
The "ABIA" is a FOR-PROFIT company that exists solely to lend credibility to their other endeavors. Again, the "ABIA" is a FOR-PROFIT company! They are NOT a trade organization.
Are there national standards for installers?

The idea of industry standards for pool table installers is not a new one. However, aside from installation classes offered by Championship D&R, NO INDUSTRY STANDARD EXISTS. Anyone telling you otherwise or claiming to have instituted industry standards for table installation is not telling the truth.
If having a good service after the sale is important to you, ask your installer (whomever you choose) to provide references from customers. No one is perfect. We all make mistakes or overlook things sometimes. Ask for references from customers that the installer has had to go back and fix a problem. EVERY installer should provide excellent service after the sale. You don't need to pay DOUBLE the market rate for that guarantee!
Site names are VERY similar. The companies are not!

Another (VERY similar) site is "pooltablemoversneworleans.com". This is NOT a local company. Although their site has all the information to make a customer think it's a local company, they are not. They are based out of Oregon. Their principle business is finders fees. They use virtual phone lines with local numbers and post local fictitious addresses (which here, in New Orleans, happens to be a convenience store on St. Charles Ave.) all in an attempt to make customers believe they're dealing with a local company. They then farm out the work to a local installer for a fraction of the price quoted to the customer. A "whois" web search will show that this website is owned by an individual in Oregon. Now for the "ABIA" (American Billiard Installer's Association).
Glad you asked!
Keep scrolling! You'll find below a complete buyer's guide to help you navigate the maze of used tables.
Just as there are companies out there who want to trick you into selling you a service THEY don't provide, there are manufacturers out there who want to sell you pool tables that appear to be better than what they actually are.
It's a messed up world we live in. But, as far as pool tables are concerned, we'll help you get through it!
The ULTIMATE guide to buying a used pool table!
Consider your income. Figure on having a set amount of money you're going to spend.
Don't go over that amount!
Take time to learn as much as you can about each and every table you like.
Knowledge is power!
The table you absolutely LOVE will come along soon enough at the right price.
Wait for the right deal!
If you want to get the most bang for your buck when buying a pool table, follow these simple rules and you'll always end up with a great table!
Check the name brand. Not all tables are equal. Brand names command a premium. Beware though! Not all models of a specific brand are good!
Research the specific model. Some manufacturers have entry-level tables. These tables are often made of particle board and veneered in a hardwood skin. The difference can be hundreds or even thousands of dollars.
If you're buying a table with leather pockets, check the leather. Often times, the previous owner didn't maintain the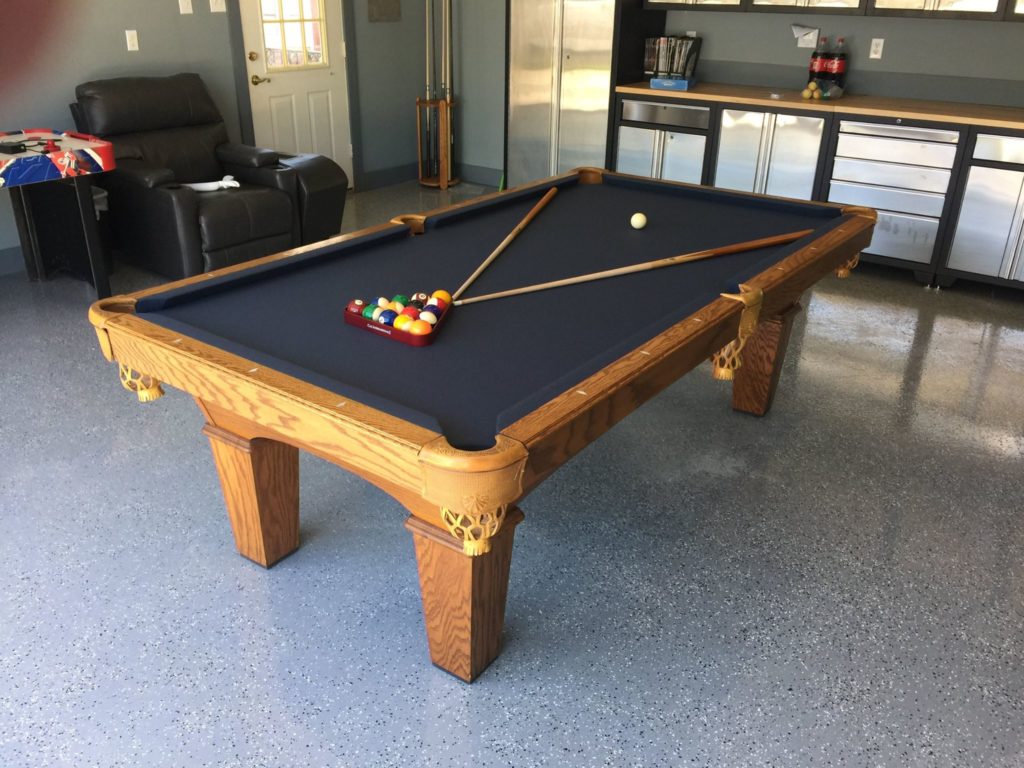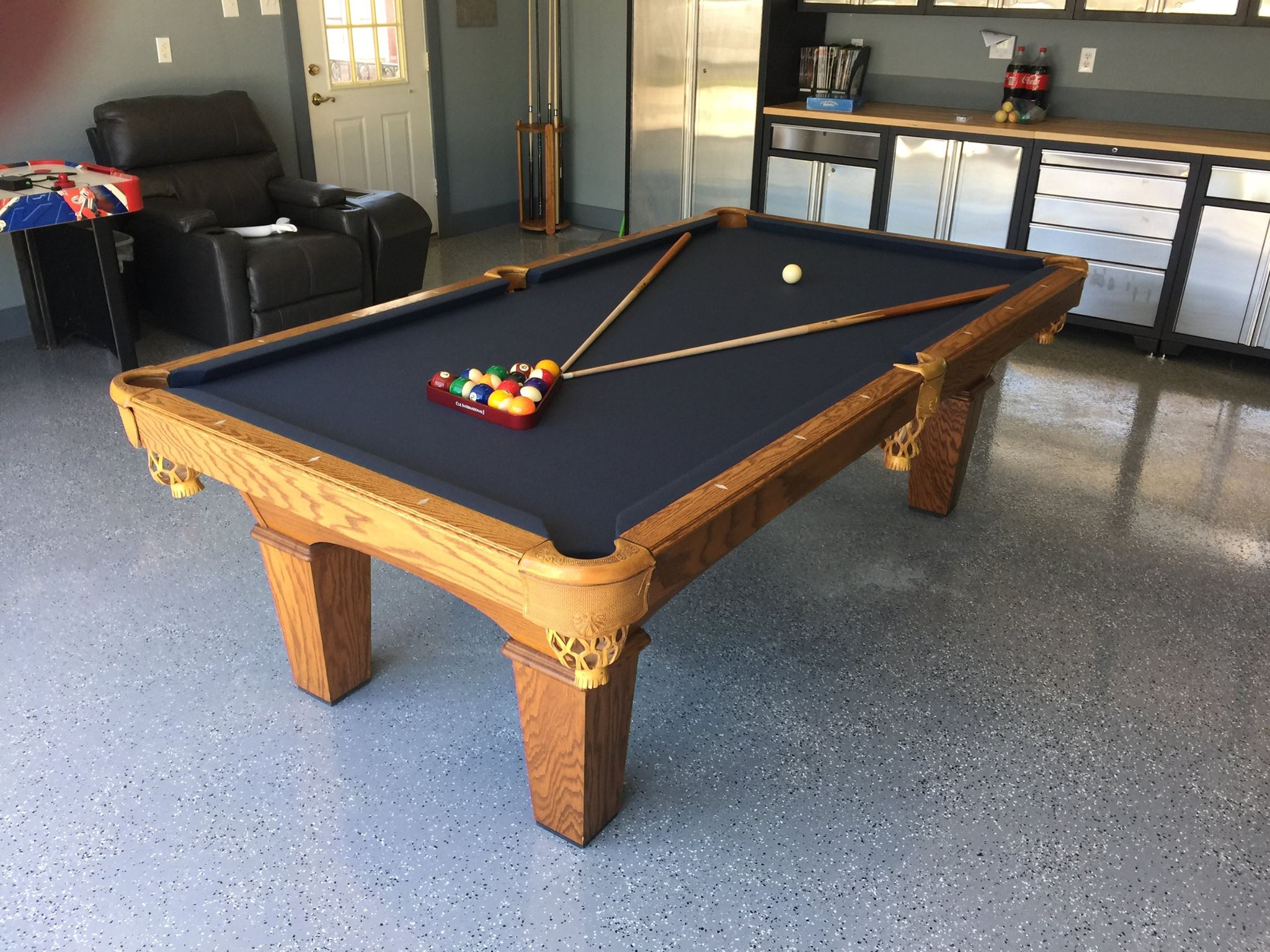 leather; causing dry-rot. This shouldn't prevent you from buying the table. But, it should be a negotiation point when it comes to how much you should pay.
Check the rubber on the rails. Tables that get a lot of sunlight will often have dry-rotted rubber. The signs to look for are: 1) Little to no rebound of the ball. 2) A "thud" sound when a ball is bouncing off the rail. 3) Hard and soft spots when pressing into the rubber with your fingers. Tables needing new rubber will also need to be recovered.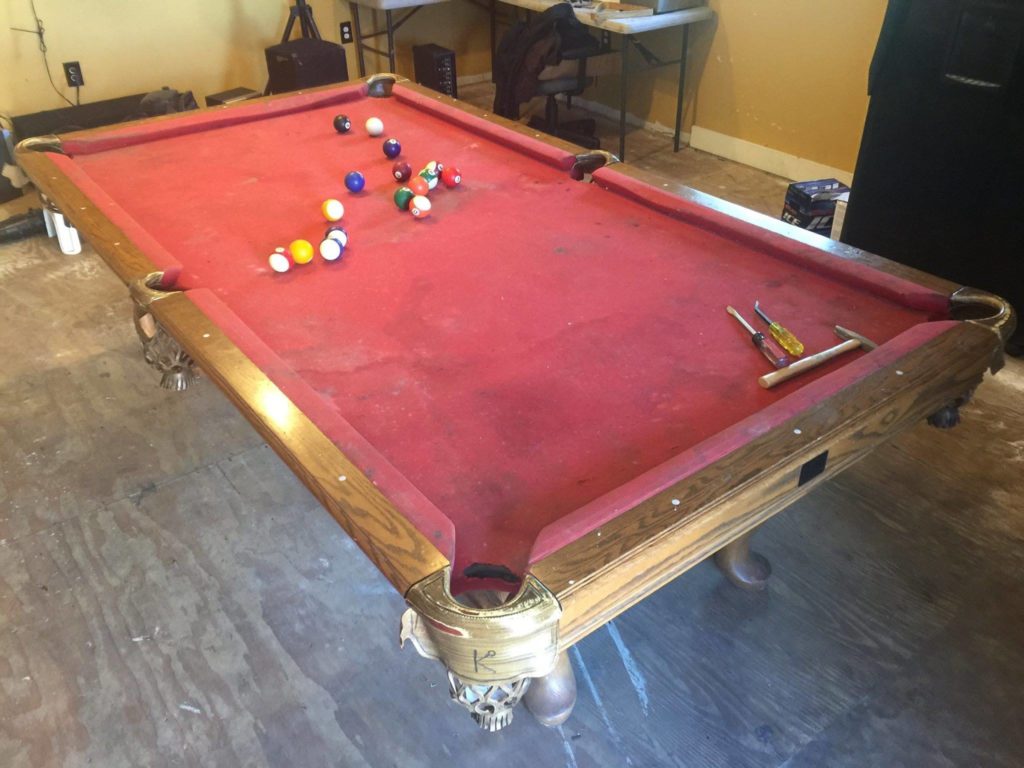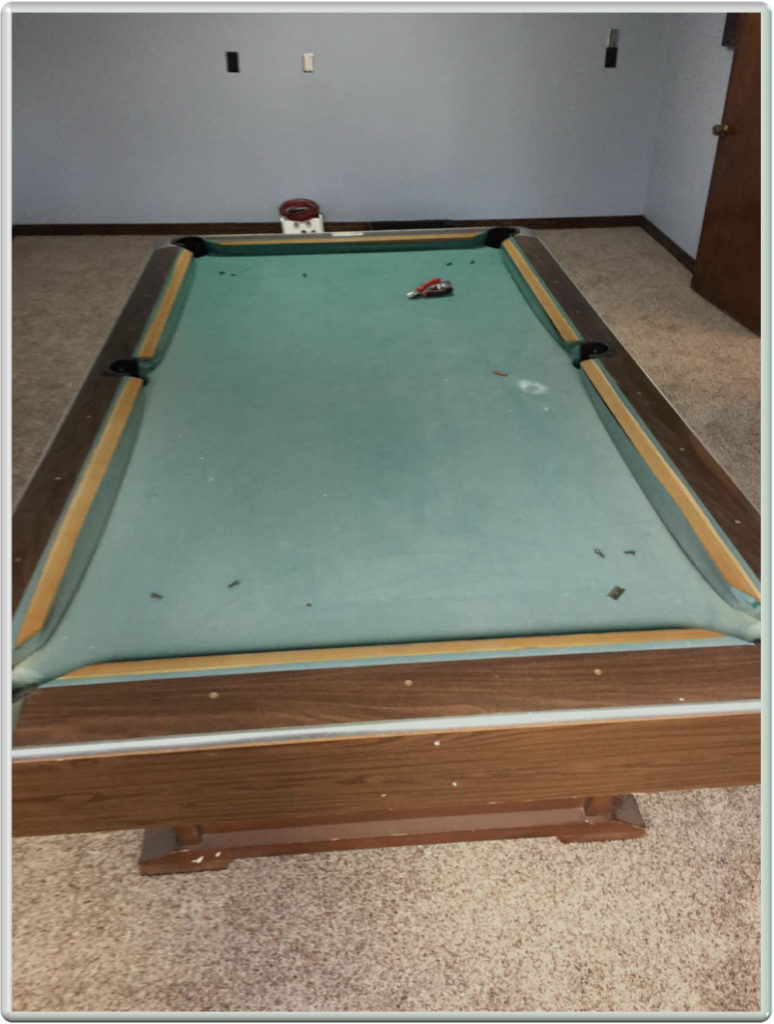 Find out when the cloth was last changed. Pool tables require maintenance. It's par for the course. Even with no play, it is recommended cloth be changed every 5 to 7 years (even more frequently for heavily used tables). No installer will offer a warranty on used cloth. So, if reusing the existing cloth, make sure it's good. Otherwise, use this information to your advantage when purchasing.
Look for rusty hardware. If you're buying an antique table, this may not be a big deal. However, on modern tables (since the invention of climate control), this is a sign of neglect.
Always look for tables with "framed slate". A quality table will have a wood frame attached to the slate. This serves as both an anchor point for the cloth and it adds structural stability.
Look for broken / missing parts. Rail aprons (the piece of wood that hangs off the rail and covers the side of the slate) are often broken or loose due to abuse. Heavily dented and dinged top-rails are also a sign. This doesn't make the table bad. But, damage does effect the sale price.
Avoid "honeycomb" playfields!!!! If the table is extremely lightweight, it probably has this type of playfield. "Honeycomb" playfields consist of a cardboard inner structure with a press-board top. These tables are basically children's toys at best. They should NEVER be considered anything more.
Typical price to move a pool table is going to be around $400. Stairs and distance will also be a factor. Recovering is roughly the same (unless both services are performed at the same time). Knowing this, and having the above mentioned tips, your buying experience should go smoothly.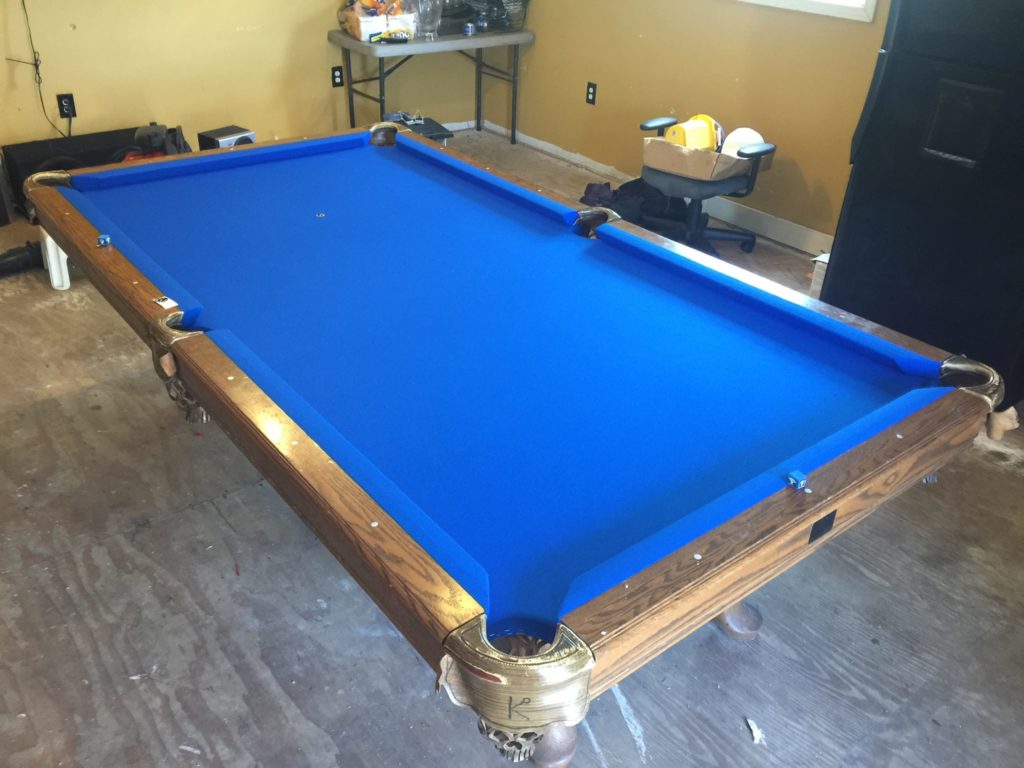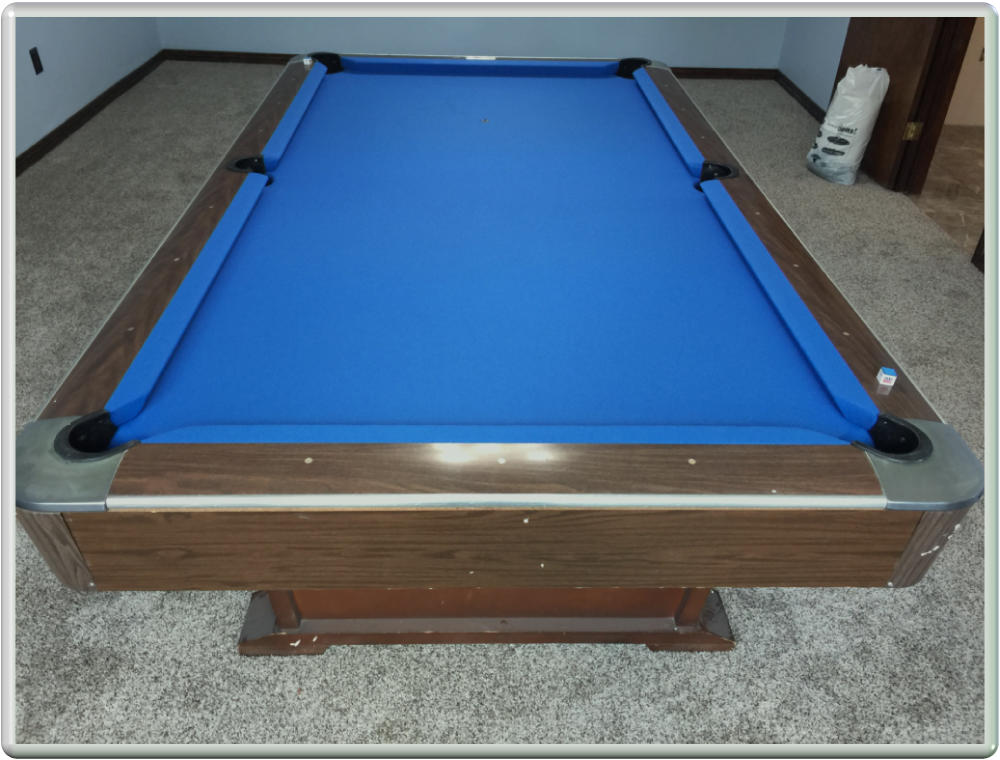 Buying a Used Table vs. New
 Here's where I fill you in on the dirty little secret of pool tables (and furniture, for that matter).
A new pool table loses half of its value the instant it's installed in your house! So, that table you just spent $4000 dollars on last week will now only sell (used) for $2000. New pool tables have a higher depreciation than cars.
Here's where you, as a buyer, can make some EXCELLENT deals.
Typically, the sale price of a pool table is just the beginning of what you ACTUALLY pay. A play package (i.e. cues, balls, triangle rack, lighting, etc.) will run anywhere between $250 to over $1000. In addition to that, you'll also pay a delivery and installation charge of between $250 and $500. Finally, add in state and local sales taxes. So, a table that retails for $3000 with a (moderately priced) play package of $500 will end up costing just at $4200!
When purchasing a used pool table, the play package is generally included in the price of the table. Thus, adding to the overall value. Sales tax doesn't usually apply on private party sales. So, if we use the "half value" mentioned above, a "like new" $3000 table should sell for $1500 (including the play package); even less if the table needs recovering and/or new rubber. Add in moving costs of about $400, and your total investment should be around $2000.
As a side note… The table you purchased used (assuming it isn't abused) will not depreciate! There are some advantages to buying a brand new table. However, most buyers will never take advantage of those benefits. There are lots of great, used tables out there. And the prudent shopper, armed with this information, will be rewarded with years of hassle-free entertainment.