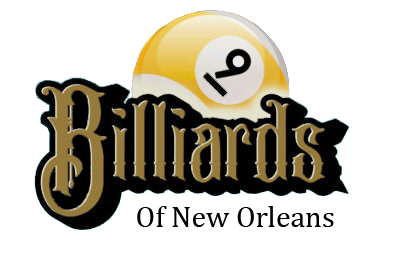 Proudly Serving New Orleans for 30 Years!
Call today to get a free quote:
New Orleans' Premier Pool Table Specialists!
Regardless of your type of pool table, we have the resources to get your issues resolved. 

NO ONE in the New Orleans area provides better, faster service! Fast, friendly, and ALWAYS on time!
We service all types of pool tables. Have a pool hall with more than 2 tables? Inquire about bulk pricing.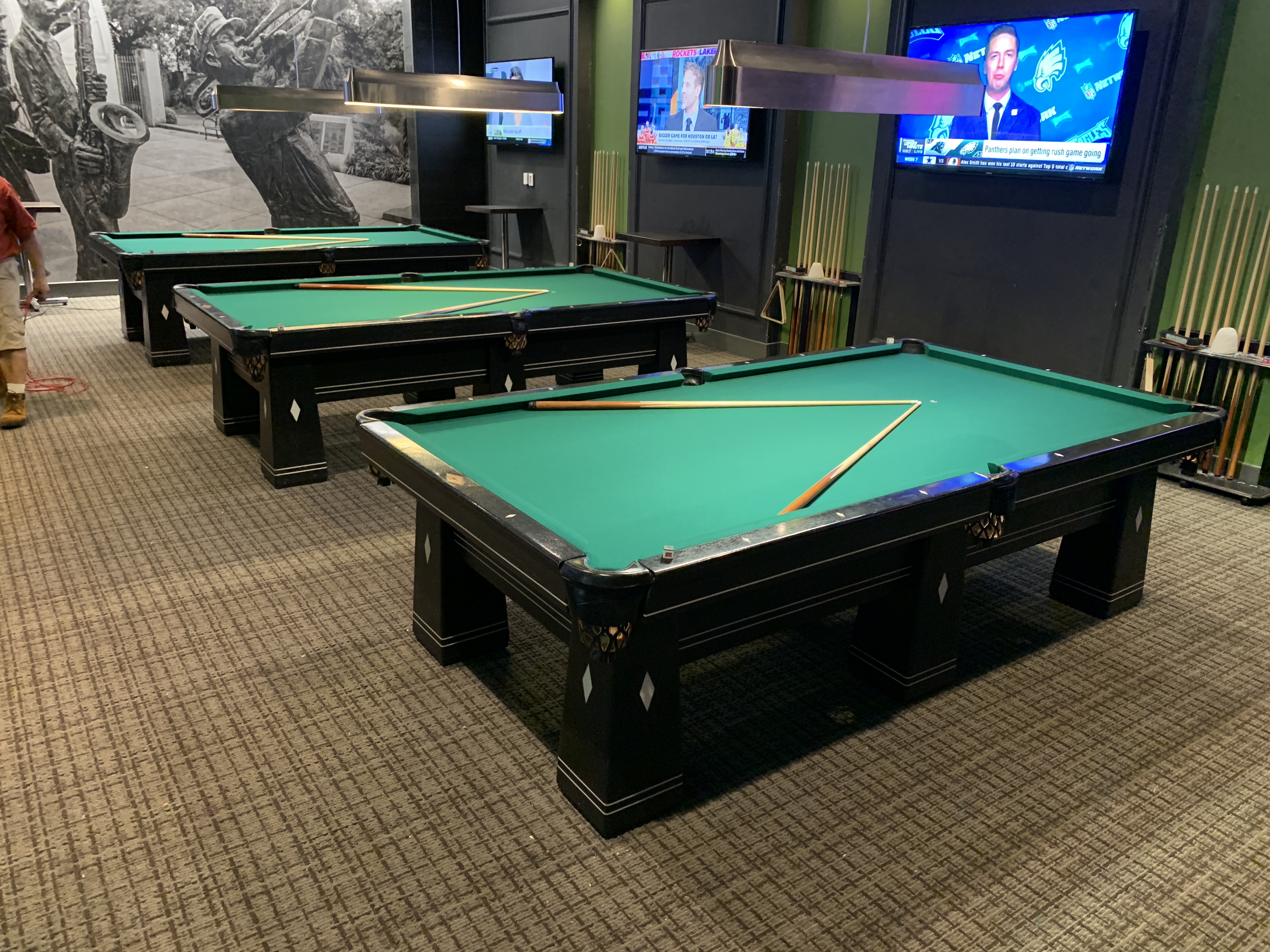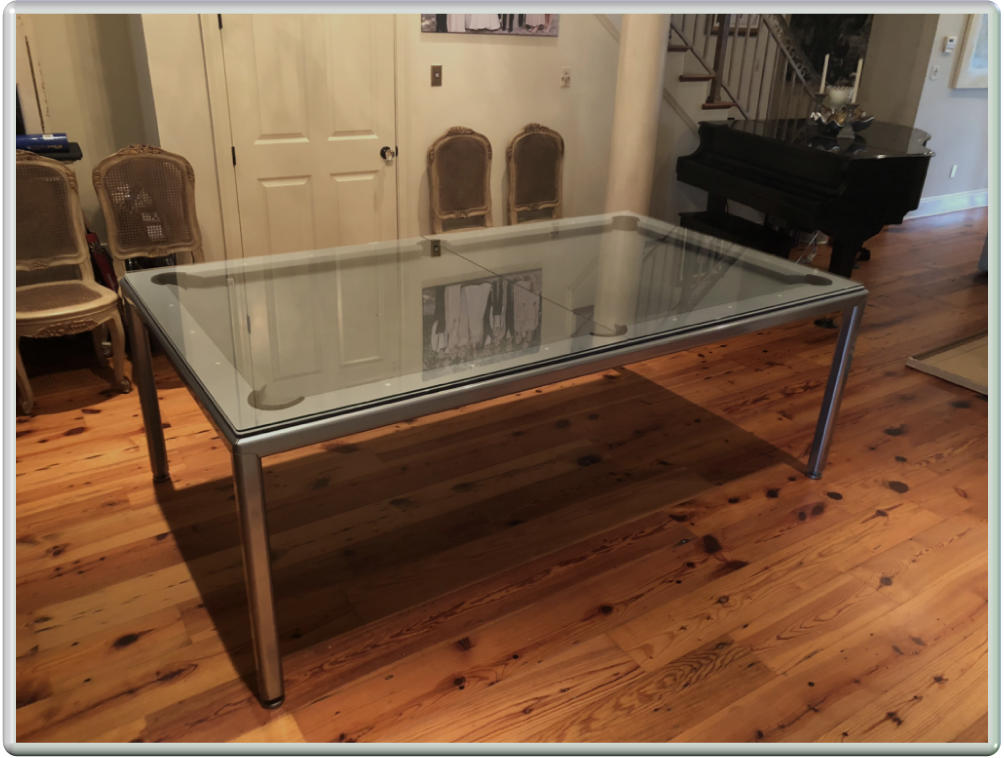 Do you have a pool table that was custom made just for you? Looking to have it professionally installed? Look no further! We have been installing custom tables for more than 25 years!
Whether you need complete service (move, recover, and new rubber) or are looking for a completely custom set of accessories, we have what you're looking for. Everything from fitted covers and balls to custom embroidery, we have it all!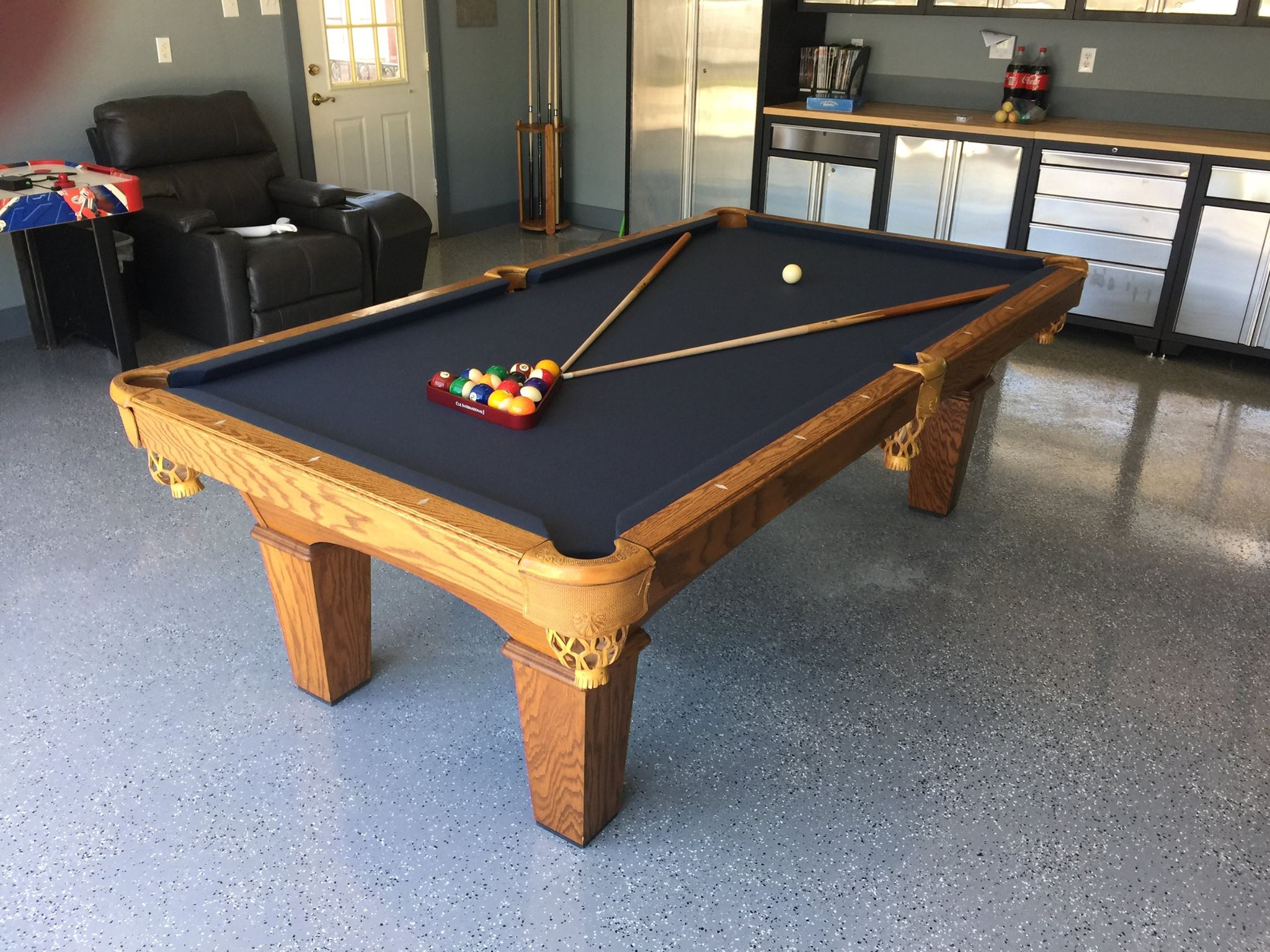 CALL US TODAY FOR A FREE QUOTE! (504) 256-6111
Click here for our online classifieds
We are New Orleans' premier pool table movers and installers. We believe in getting the job done right on the first visit. And we treat your table like we would treat our own. Check out our Gallery page to see photos of some of our work. NEVER any stock photos! Every table you see on our site is one that we personally installed.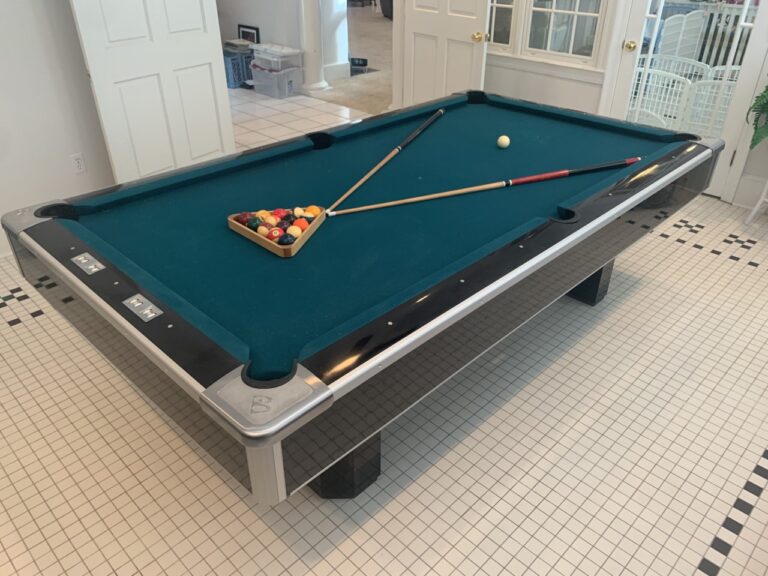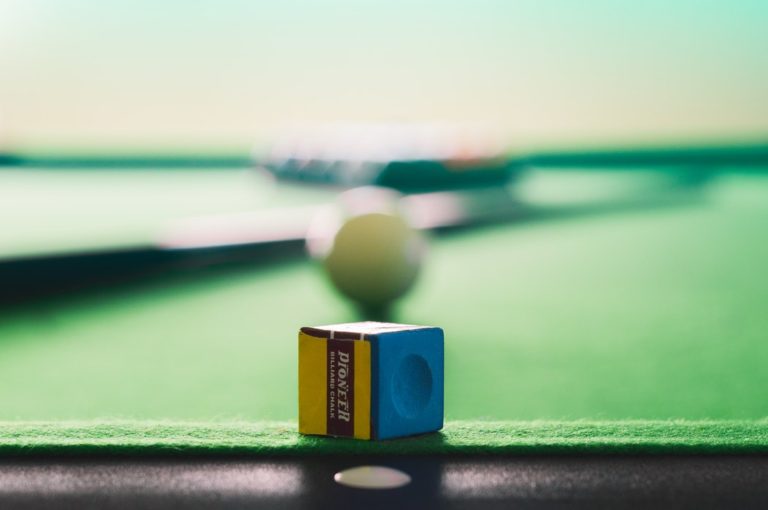 LOTS of misinformation floating around regarding who will actually be doing the work on your pool table. Don't be tricked into paying double for worthless "guarantees". Find our more …
Know How and What to Buy!
Looking to buy a used pool table? We've laid out a detailed list of things you need to know when considering which pool table to purchase. Follow our user's guide and you'll always be happy with the table you bought.
Why Us?
NO ONE in the New Orleans area has our experience with pool tables! With over 25 years of experience, your table is done right the first time! We are New Orleans' premier pool table movers and installers.
List of Credentials:
Former pool table designer
Former columnist for Inside Pool Magazine
Restoration work done on antique tables.
25 years experience.
References available upon request.
List of Services:
Moves, Re-covers, Parts replaced and repaired, Restorations, Fabrication of missing parts,Storage (long and short term), Accessories
Some other companies that advertise online are doing nothing more than taking your information and giving it to a local installer (for a HUGE fee)! Not us. We are locally owned and operated. We are located off Chateau Blvd. here in Kenner. We know the area. We know our customers. We are not just operators in a call center taking your call (more importantly, taking your money).
The owner of the company is the one who does the work! That's a huge incentive to get it right THE FIRST TIME! Since warranty work costs money to perform, we do everything in our power to get your table installed perfectly on the first visit.
While mistakes can (and sometimes do) happen, our goal is perfection. Our reputation is on the line with each and every table. And, after 25 plus years of working on pool tables, we want our reputation to remain spotless. We're happy to provide references upon request.We use the best equipment.
Everything from our power tools to our levels insures your table is done properly. We never use drills on your screws. We only use Makita brand cordless impacts. Why?Because drills can strip out the heads of screws. Stripped out hardware makes it extremely difficult (if not impossible) to service the table in the future. We use Craftsman brand hand-tools. Why? Because we believe that better, more reliable tools make for a smoother installation. The fewer problems we have with our tools, the faster we can finish your table. We want our presence in your home to be as unobtrusive as possible. We use machinist's levels to level your slate. Why? because a machinist's level can get your table within 1/10,000th of an inch. That's as close
to perfection as it gets. While other companies settle for using carpenter's levels (or worse, rolling a ball across the slate), we implement only the very best levels made to date. We use pneumatic staplers for the upholstery work. Why? Because they're the fastest, most reliable staplers on the market.
We understand that you're busy. We understand that you're taking time off your day's work to accommodate us. It's our job to be as efficient as possible to accommodate you. ALWAYS on time or early!
As we just touched on, we understand that you're taking time off work or away from other activities to accommodate us. It's also our responsibility to respect you and your schedule. That's why we will NEVER be late! We closely monitor the weather to make sure that "Mother Nature" doesn't do any damage to your table. So, if we need to reschedule your job, we will give you as much advance notice as possible. It's extremely rare for us to reschedule!
Other companies make a profit by selling your information to a local installer. The typical "ground-floor" to "ground-floor", local to local pool table move here in the New Orleans area cost is $500.00 (mileage and stairs are additional). Other online pool table moving companies (specifically, the one who claims to be a member of the "ABIA") charges $850 for that same job! Keep in mind, they are keeping a finder's fee and the remainder (around $400), you will pay to the installer directly. Do you
really think that you should be paying an extra $350.00 for them to relay your information to a more local installer? We don't!
We also don't belong to any bogus "installer's association"; since there is no
such thing. The ONLY nationally recognized billiard trade association is the Billiard Congress of America; of which, we are a member.The price quoted is the price you pay!
NO SURPRISE CHARGES! No bait and switch. NEVER any booking fees.
The price we quote is the price you pay. The only way the price would go up is if you surprise us with additional work.
Sometimes it's impossible to know whether or not a table needs new rubber, new cloth, hardware, or other parts until we get there. Those items or services would be additional. However,we can usually tell if your table may need them during our initial phone conversation. Regardless of what we suggest to you to get your table back to optimum condition, YOU'RE THE BOSS! You will ALWAYS have the final decision regarding your table. We may make suggestions, but, it's your table. It's your money. It's your decision.
Pool table repairs.
Whether your table needs new cloth, new rubber, hardware, or you need parts built, we are the ONLY FULL SERVICE billiard company in the New Orleans area. In our facilities, we have the tools, knowledge, and expertise to do EVERYTHING on a pool
table. We have done every type of pool table repair you could imagine. We have the capabilities to fabricate reproduction rails, skirts, frames, legs, and even repair broken slates. NO ONE else in the Gulf Coast region has our facilities, knowledge or skills.
We also offer touch-up services.
Pool table touch-up.
With most modern
tables, the only thing they need to make them look fantastic is a bit of touch-up to the finish. We can usually make dents, dings, and more minor blemishes virtually invisible. No one else offers this service. We are a full service company. No job is too big and no job is too small.Experience!We have been working on pool tables for more than 25 years! After all these years, there isn't much that we haven't done. We've seen every kind of damage and fixed it.
We've had every kind of request and fulfilled it. We've tried the ways that don't work and eliminated them. What's left is a lean, mean system of pool table service that is optimized for you, the pool table owner. We move pool tables in New Orleans, Metairie, Baton Rouge, and surrounding areas.We consider a local move to be
within the New Orleans Metropolitan area (Orleans, Jefferson, parts of St. Bernard, St. Charles, St. James, and Terrebonne Parish). Outlying parishes and longer distance will be assessed an additional mileage fee.
We are New Orleans Pool Table Movers. Our sister site is neworleanspooltablemovers.com.
We are also the owners of New York Billiards.
New Orleans pool table service. New Orleans pool table repair.
Pool table service New Orleans. Pool table repair New Orleans.
Sell your pool table through us for FREE!