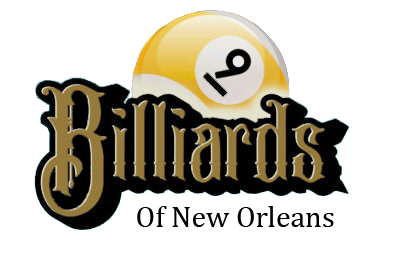 Proudly Serving New Orleans for 30 Years!
Call today to get a free quote:
Replacing the Rubber on Your Pool Table
Replacing the rubber on your pool table isn't exactly rocket science. However, as you can see, there is skill and finesse to get the job done right.
This video serves two purposes:
1) To show the process for potential customers. I do stress that this is a job that is easily messed up. And, when done properly, takes a bit of time.
2) To be a tutorial for anyone who wishes to attempt the process themselves. 
Be warned!! My methods have been developed over the past 30 years. It is VERY easy to destroy a perfectly good set of cushions or worse, destroy a set of rails! In short, I make it look easy!
Time-lapse video of us recovering a 40 year old Brunswick pool table.
Recovering a pool table takes about 2-1/2 hours to do. This is the complete process – only sped up!
Billiards of New Orleans also owns the following websites:
https://www.newyorkbilliards.com
https://www.billiardsoflouisiana.com
https://www.louisianabilliards.com
https://www.neworleansbilliards.com
https://www.doublejayranch.com
It is our hope to further the advancement of all within the billiard community by offering websites for lease to others who find themselves being choked out by out-of-state competitors only looking to get their hands on consumer's money without actually providing any meaningful service. We find this practice to be unethical and borderline fraudulent.